Take Costs Out of the Business with MRO Supply Chain Optimization | Recording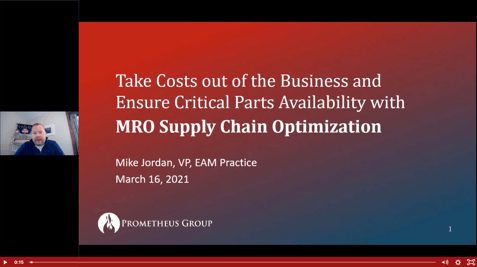 Your annual spend on MRO-related spare parts is extremely high. You need a solution that eliminates wasteful spending on obsolete and unnecessary parts to bring these costs down. Your solution also needs to ensure your maintenance teams have the right spare parts, in the right place, at the right time to keep your equipment running with maximum uptime.
Master Data-as-a-Service (MDaaS) by Prometheus Group enables hard-dollar cost takeout from your bottom-line by identifying unneeded and obsolete spare parts, preventing their continued procurement, removing them from your existing inventory and ensuring maximum maintenance productivity.
In this webinar, we explore:
Analyzing historic work orders to identify obsolete inventory

Assessing your MRO spares waste and inventory requirements

Cleansing and enriching asset master data to prevent unnecessary MRO spares spending

Maximizing operational continuity

Optimizing the MRO supply chain to support maintenance productivity
For the presentation slides, click here.
For more information on MDaaS, click here.