The 2016 Prometheus Group User Conference is our favorite event of the year. Beyond the detailed presentations and valuable customer knowledge shared, we enjoy the opportunity to get to know our customers and learn about the diverse backgrounds and industries that are brought together by plant maintenance and Prometheus Group.
We welcomed our customers to Austin on Tuesday evening with a reception, complete with cowboy boot mug centerpieces and a picturesque view of the Austin skyline.

---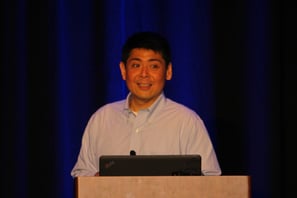 The learning began Wednesday morning with an opening keynote from Prometheus Group CEO Eric Huang. He shared how Prometheus has grown and the direction it is growing in, giving his take on success in the modern era. Eric understands that the "winners" in business today are those who can better master technology, understand data, and translate this technology and data into increased efficiency, more productivity, and faster reaction times. He told customers that Prometheus Group intends to help our customers do these things better by developing technology to enhance more areas of the businesses we work with.
Our first customer-led session was headed by Scott Allen of Denbury Resources. Scott is a fairly new Prometheus customer who showed our audience the leaps and bounds of progress Denbury was able to make in a short time by partnering with Prometheus Group and using the partnership to build a foundation for maintenance excellence. He shared specifics on Denbury's weekly, quarterly, and yearly maintenance strategies and how they use Prometheus tools to look ahead at these maintenance plans and create maintenance forecasts. Denbury started with Prometheus in August 2015, building routine schedules and eventually expanding into 5-week look ahead schedules and 18-month maintenance forecasts. Denbury's efforts have helped them to find their areas of inefficiency and maximize their maintenance downtime to become industry leaders.
After lunch on Day 1, conference attendees learned and interacted with others about specific topics in two rounds of breakout sessions. Those who wanted to learn more about Scott Allen's story could take a deep dive into his Preventative Maintenance approach and walk away with actionable steps to put their own companies ahead of their maintenance plans. A customer spotlight led by Chris Sciuto of Olin Brass details his company's maintenance excellence journey and how he turned a complicated planning process into a well-oiled machine, all while tracking KPIs and learning from his data. Meanwhile, Prometheus Group's Justin Fox led a workshop and Prometheus Group University highlight on building a turnaround using the PS and PM modules in SAP while integrating maintenance work orders for execution, tracking, and analytics.

In the second round of breakouts, Prometheus Group's Jeff Kinard moderated an interactive customer panel on tips and tricks for routine maintenance. Justin Fox led another workshop and PGU highlight, this time giving an introduction to getting started with Prometheus Group solutions and developing best practice maintenance plans inside of SAP and Prometheus. Kevin Wynnyk, a customer from an oil and gas company in Alberta, led a session with Prometheus's Heidi Mucci to discuss partnering with Prometheus Group for an MDS project to cleanse the company's master data. Kevin and Heidi discussed the driving forces of MDS projects, insider tricks, lessons learned, and the impact of the MDS project for Kevin's company.
To learn more about the topics we discussed at the User Conference, check out our 2016 PGU offerings.