Connecting Operations, Maintenance, and Engineering | Recording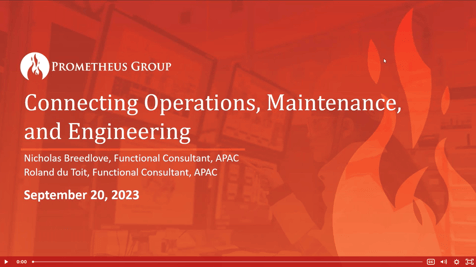 Asset Management is supported by many teams and groups within an organization, from operations, maintenance, and engineering, as well as reliability and safety teams and others. Effective asset management is often a result of how efficiently and effectively these teams work together and communicate to support shared goals and objectives.
However, in many organizations, the systems, teams, and processes supporting asset management are often disconnected and inefficient, resulting in reduced productivity, increased costs, and higher safety risks.
The Prometheus platform helps address these challenges through integrated solutions that connect operations, safety, maintenance, and engineering teams and their related systems and processes, while still maintaining single sources of truth with your data historian, ERP, and EAM systems.
In this webinar, we cover how the Prometheus platform connects maintenance, engineering, and operations, a live demo of the Prometheus platform facilitating the work management process, and how the Prometheus platform solves maintenance challenges and increases your ROI.