How To Avoid the Month End Forecasting Crunch | Recording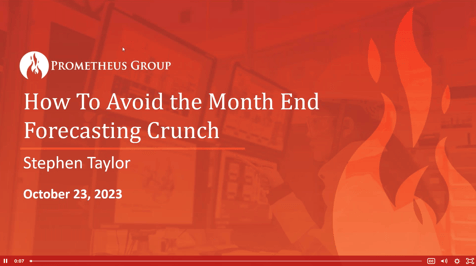 At the end of each month are you facing a large amount of projects that need to have updated forecasts? Are unsure of what your forecast was last month, unsure of current commitments and actuals in your SAP system, or doubting if your spreadsheet formulas are going to work?

This is the case for many capital project portfolio managers responsible for million- and billion-dollar capital projects.

In this webinar, we cover how you can address these challenges with Prometheus Project and Portfolio Management (PPM). We cover how Prometheus Project and Portfolio Management enables you to leverage a consistent WBS structure from project to project, utilize ERP actual and committed costs, take snapshots to capture changes in forecast during the project lifecycle, leave comments to facilitate cross-functional collaboration, and use cost curves to distribute EAC (estimate at complete) to generate a cost curve.