Huntsman's Master Data Journey | Recording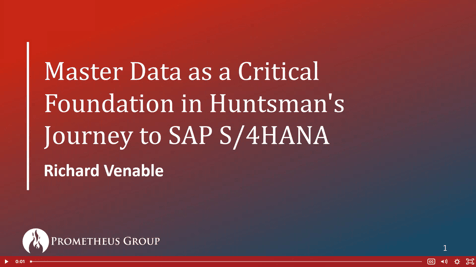 Huntsman Corporation is a leading global manufacturer of differentiated and specialty chemicals, operating more than 70 manufacturing, R&D, and operations facilities in over 30 countries.

With a decision to move to SAP S/4HANA to align the organization and standardize its processes as well as maintain a competitive advantage, Huntsman realized that they had many sites with different and disparate data management processes and began to notice gaps and inconsistencies in master data across sites. Recognizing the need for a solid and trusted data foundation to maximize the ROI of their SAP S/4HANA transition and improve asset management, Huntsman knew they needed better master data management tools and solutions to achieve its desired results.

In this webinar, Richard Venable, Huntsman's BPO for SAP Plant Maintenance and Maintenance Process Expert for Global Excellence Team will discuss reasons Huntsman decided to make a transition to SAP S/4HANA, why Huntsman chose to implement Prometheus Master Data as a Service, how Prometheus Master Data as a Service addresses master data challenges, and benefits of improved master data across Huntsman Corporation.