Top Challenges in EAM | Recording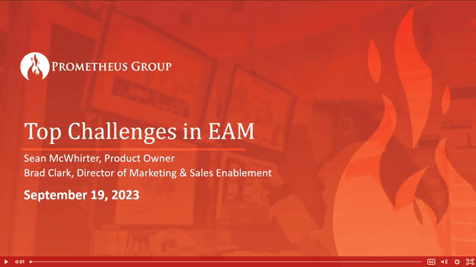 Some challenges are unique to organizations, industries, and regions, but when it comes to enterprise asset management, there are many commonalities and similarities, and a lot that can be learned from each other, including others globally.
In November, Prometheus Group will be joining our colleagues in Australia and the Asia-Pacific region as a sponsor at the Mastering SAP EAM event, along with Prometheus customer and industry leader Rio Tinto presenting on their work integrating Permitting and Safety with Planning and Scheduling processes with Prometheus solutions.
As part of this annual conference, a Hot Topics Research report is released, looking at the biggest interests and challenges facing EAM leaders. We wanted to take the opportunity to review and explore some of the key topics identified, but also create an interactive opportunity with our own global community to see how these topics align with our customers and our experience, while also providing insight into addressing and overcoming these challenges and areas of improvement.
In this webinar, we discuss and review key topics like SAP S/4HANA EAM, master data, mobility and the user experience, predictive maintenance, integrating teams and systems, and more.