Visualizing and Managing Process Safety Risks | Recording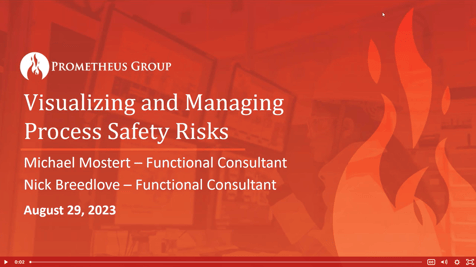 Are you unable to get a full picture of your company's operational and process risks? Is your risk management process manual and inefficient and lacking visual indicators and ease of communication? Most organizations don't have a complete picture of their assets and barriers, increasing potential risks and lacking the ability to easily and effectively manage them. This can lead to increased costs, decreased safety, and increased chances of costly catastrophic breakdowns/ failures.
In this webinar, we cover ways to improve your control over your risk management to increase safety and decrease costs. We discuss how to track potential and active impairments to barriers, ways to view cumulative risk across your assets and sites, how to find information and generate reports quickly and easily, how to ensure risks are closed with proper documentation and evidence, and how Prometheus RiskPoynt can enhance your risk management process.